Play background music here
while you read the page
As our special tribute to the terrible events that happened in America on 11th September 2001 we provide this page showing Britain's support and indeed the support of our own Electric Scotland community.
Not only was this a terrible event for Americans but also for the world. It is said that more British were killed in this event than in any other terrorist event in our history. Many people of some 61 nations have died as a result and the world has come together to support our American cousins in their time of need.
14th September 2001
British Parliament meets to give full support to America
Special 3 minute silence at 11am
3 minute silence in Edinburgh
3 minute silence at Parliament
3 minute silence in Brussels
3 minute silence at the US Embassy in London
3 minute silence at the US Air Force base in England
3 minute silence in Belfast
3 minute silence in Cardiff
3 minute silence in our Schools
3 minute silence at the US Air Force base in England with Piper playing Amazing Grace
Service at St Paul's Cathedral
The Queen with US Ambassador to the UK
Crowd scene outside St. Paul's, estimated 30,000 people
The Star Spangled Banner
First time the American National Anthem has been played in St Paul's
(The American National Anthem was also played at the changing of the Guard at
Buckingham Palace. The first time this has ever happened in our history.)
18 year old American Student lights a candle of remembrance
The Archbishop of Canterbury
A Service of Remembrance with the American Community in the United Kingdom

We have gathered today, not only inside this great Cathedral but outside as well, to share in America's grief and to mourn the loss of so many lives.

Like millions of others I watched in horror, as the towers of the World Trade Centre disappeared under a cloud of dust and smoke. A modern icon of America had been reduced to rubble. A senseless evil had been perpetrated against America and against the free world.

In the aftermath of such shocking events, various emotions arise within us. We may feel despair at man's inhumanity to man. We may feel helpless that we can do so little for those who have suffered so much, among them hundreds of British people; they and their families are very much in our thoughts and prayers at this time. We may feel anger against those who planned and carried out such evil, despicable deeds. We may want to see revenge. We may just feel numb.

But my first word today - echoed I know by every faith leader present and by us all - is a simple message to the people of America through the American ambassador: a message of love and solidarity; a message also of hope. What you have gone through in these last few days is beyond our imagination. As we gather with Her Majesty the Queen, Government and other political leaders, our hearts go out to you; you are all firmly in our prayers. We hope you know that we are with you in your hour of need.

And next let me affirm that true faith is never overcome by disasters of this kind. There is something unconquerable about the faith we share. With St Paul we trust that 'neither death, nor life, nor angels, nor principalities, nor powers...nor any other creature shall be able to separate us from the love of God in Jesus Christ our Lord.'

And even in the darkest hour, such faith in God gives birth to hope. So into the trauma of the people of America let us declare the hopeful words of the prophet Isaiah, first spoken at a time of disaster and despair in the life of his own people:
They shall build up the ancient ruins,
They shall raise up the former devastations,
They shall repair the ruined cities...
I am hopeful for the people of America: hopeful that as ruins are rebuilt, so also a shaken people will be restored.

For, as the twin towers of the World Trade Centre disappeared amid the smoke and carnage, across a short stretch of water another, older, American icon was not submerged. The September morning sun continued to shine on the Statue of Liberty, her torch raised like a beacon; a beacon of hope, and to millions around the world, a symbol of all that is best about America.
Liberty has always been at the heart of the American vision. That liberty must be defended. It is the awesome responsibility of the leaders of America to decide how to respond to this evil inflicted upon their people, this assault on their freedom and security. The leaders of America need our prayers. May God give them wisdom to use their great power in such ways that further evil aggression is indeed deterred, and the security and well-being of all is advanced in our interdependent world.
For the flower of democracy to flourish it must grow in the soil of justice. Yes, those responsible for such barbaric acts must be held to account. But we must be guided by higher goals than mere revenge. As we battle with evil, our goal must be a world where such violence is a thing of the past.

The ideal of liberty at the core of America's greatness - the liberty symbolised by that statue emerging unscathed from the pall of devastation - was founded on a noble community of values in which we are proud to share. Values like tolerance and compassion, justice and mercy. Values at the heart of the Christian faith and also of other faiths.
Let us keep them before us now - like a torch, like a beacon - even as we mourn and grieve. For if we are steadfast we know that, by the grace of God, no darkness, no evil can ever extinguish that beacon of hope.
The Queen and US Ambassador meet Americans outside St Pauls
Pictures on this page were captured from the BBC transmissions
See also Day of Remembrance in Scotland at BBC Scotland
Scotland's leaders united in sorrow
See Real Video report from Scotland
Tribute by the Scots Independent
Scotland's National Bard, Robert Burns, wrote that:–
"Man's inhumanity to man
Makes countless thousands mourn."
This vile attack proves the truth of the Bard's words.
Our Webboard community comes together
These are just a small selection of the messages that were posted on our Electric Scotland webboard
| | |
| --- | --- |
| Topic: | Condences to our American friends (1 of 12), Read 102 times |
| Conf: | Admin |
| From: | Alastair McIntyre |
| Date: | Tuesday, September 11, 2001 11:34 AM |
I find the scenes in America right now just terrible and simply wanted to express my condolences to our American friends and hope that none of you or you family have been personally affected by these tragic events.

I am sure all of us on here have you in our prayers.

Alastair
| | |
| --- | --- |
| Topic: | Condences to our American friends (2 of 12), Read 72 times |
| Conf: | Admin |
| From: | Deb Beach |
| Date: | Tuesday, September 11, 2001 11:43 AM |

Thank you Alastair. This is all just
to horrible to even imagine. I have
friends that live near that area of
New York and am so worried. This has
me so shook up, I can hardly think.


| | |
| --- | --- |
| Topic: | Condences to our American friends (3 of 12), Read 67 times |
| Conf: | Admin |
| From: | Beverley Harwood |
| Date: | Tuesday, September 11, 2001 01:35 PM |
In scotland we are hearing all about the horrible attack - our condolences also to our American friends.
Bev

| | |
| --- | --- |
| Topic: | Condences to our American friends (4 of 12), Read 62 times |
| Conf: | Admin |
| From: | J.Douglas Ross |
| Date: | Tuesday, September 11, 2001 05:16 PM |
Whatever befalls our American friends has an immense effect upon all Canadians. My sympathies are extended to all who are affected by these senseless attacks.

All of us remember certain events and what we were doing when they happened. I remember Pearl Harbour. I remember the assassination of JFK. I am saddened to add the sneak attacks of September 11, 2001, to the list.

Doug
| | |
| --- | --- |
| Topic: | Condences to our American friends (5 of 12), Read 67 times |
| Conf: | Admin |
| From: | Connie Marra |
| Date: | Tuesday, September 11, 2001 06:25 PM |
Thanks you for your kind and caring condolences.

I am outside the US at this moment and somewhere in Canada. I cannot disclose my exact location, however, I have been listening closely to all the incoming reports of the attacks on America. As an American, I am now in shock. Further, I had decided not to try to cross over the border into America, but rather to delay my attempt to return home post haste. The borders are closed in may places and security if so tight right now that I'm sure US Customs would dismantle my vehicle and take my computer. Trust me, I know they most likely would and can anyone blame them?

I would like to say that, Canadians have done just what you would hope anyone would do for you, as your neighbor and friend. The Canadian Blood Service is working like mad to collect blood for injured Americans. Many Canadians are traveling to Canadian airports and other facilities that travelers use to actually look for Americans or any stranded travelers to offer their homes to them as a way of offering assistance. The Canadian heart is a BIG heart. I wish to extend my thanks and deep appreciation for your love, care and humanity. *HUGE HUG*

The events of the day should not be what they are. The events of the day should be that world peace has been achieved or that hunger on our planet has been eliminated. In light of this day's events, I feel it is most appropriate to tell everyone on ES, friends or not, that if they ever want to take my hand in friendship, I have it fully extended. If my hand is a bit wet, it is so from my tears of sadness for this horrific and cowardly attack made upon my country today.

Connie Marra

| | |
| --- | --- |
| Topic: | Condolences to our American friends (6 of 12), Read 65 times |
| Conf: | Admin |
| From: | Fire Fly |
| Date: | Tuesday, September 11, 2001 06:38 PM |
The onslaught is hitting us in San Diego. Major shopping malls (totally enclosed) are closed and locked. Community centers are closed and locked. School attendance is low, whether it be from parents' concern for their childrens' safety or because they want them to see this sad and historical day unfold before their eyes on television. U.S. Citizens that have gone across the border to Mexico are waiting hours in HOPES that they can get back across. All airports and train stations (as I'm sure you are aware), are shut down. My one major concern is of the many naval, airforce and marine bases stationed in San Diego, one not far from me. I can't imagine we'll be hit, but one can't help but wonder. I have several friends in the service, and they are ALL on stand-by now. If you're sending prayers, I would ask they be directed towards them.

I placed a call to my aunt in Manhattan to make sure of her safety, as she lives all of five minutes (as the crow flys) from the towers. Amazingly, the call went immediately through and she answered. Her only words in description of the situation were, "It's a mess here."

If the news reports are correct, Los Angeles, about 200 miles to the north of San Diego, may be hit next. My prayers are with the people close to downtown and the surrounding areas.

| | |
| --- | --- |
| Topic: | Condolences to our American friends (7 of 12), Read 58 times |
| Conf: | Admin |
| From: | Lu Rose Hickey |
| Date: | Tuesday, September 11, 2001 07:56 PM |

My thanks to all my kinsman offering prayer and condolences to the Americans.

Like Doug, I too remember the JFK Day, such a sad week in American History.

This intolerable act of injustice and murder could have come from anywhere. I do hope our leaders do not rush to judgement on our foreign friends or enemies, if they are, to lay unjust blame. There are groups of Militia in America who would not hesitate to do this malicious act against their own kinsman to attempt to "get even with the establishment."

Thousands of persons are dead and injured, for what purpose? Millions of dollars lost in infrastructure. Police officers and Firefighters dead and injured..how sad. What greed and hate would perpetrate such a travesty ?

My personal thanks to our Canadian kinspeople for being there, arms open, to assist their neighbor to the south.

This is certainly a sad day in American History.

Lu.
| | |
| --- | --- |
| Topic: | Condolences to our American friends (8 of 12), Read 52 times |
| Conf: | Admin |
| From: | Marie Orr |
| Date: | Tuesday, September 11, 2001 11:11 PM |
Thanks everyone, I live near the Hudson River across from New York and was watching TV & saw the planes hit the World Trade Center.
It's been a rough a day so many people killed.
I too remember the day JFK was shot.

Thanks Alastair & our Canadian friends & all for thinking of us American's today.
| | |
| --- | --- |
| Topic: | Condolences to our American friends (9 of 12), Read 58 times |
| Conf: | Admin |
| From: | Gina Hudson |
| Date: | Wednesday, September 12, 2001 12:52 AM |
My niece emailed us to say that it looks like a war zone there...She is all right, but they are asked to stay in and she said "none of us are leaving Manhattan for some time, I'm sure." The ripple effect is going to be going on for a long time as we realize just what businesses were in that area. I wish everyone strength....Gina
| | |
| --- | --- |
| Topic: | Condolences to our American friends (10 of 12), Read 55 times |
| Conf: | Admin |
| From: | Euan Brownhill |
| Date: | Wednesday, September 12, 2001 08:35 AM |
Whilst we might be a long way down here in OZ,from the tragedy that has been perpetrated on the people in the US,rest assured you are in the thoughts of,i hope, all Australians.The reaction i felt from the people i work and deal with during my working day is utter disbelief and sympathy.
I`m sure i can say the people of Australia will support whatever decision is made to deal with this terrible act of terrorism, and bring to justice whoever is responsible.
Euan..
| | |
| --- | --- |
| Topic: | Condolences to our American friends (11 of 12), Read 54 times |
| Conf: | Admin |
| From: | Janice Mcfalls |
| Date: | Wednesday, September 12, 2001 10:30 AM |
as we are in florida...united states...we were both saddened and terrified that this has actually happened so close and yet so tragically here...we live between three military bases...so we are locked down tight here...we are keeping our son close as most americans are this week...for the comfort of knowing he is at least with us...we no longer feel safe anywhere...america used to feel like the safest place in the world...we now know that is not true....the whole of the country is in terror of when this will happen again and where...we wait in held breathe to hear of where we have been hit next...it is in true terror that i write this with the news in the background...we are thankful for all the heartfelt condolences of everyone on es...and ask that you keep us in your prayers....and pray for our safety...as we do each night...it has been a terrible night and a great loss to us...we keep seeing the planes hit the towers and the dead count...we need your compassion now....the macfalls
| | |
| --- | --- |
| Topic: | Condolences to our American friends (12 of 12), Read 35 times |
| Conf: | Admin |
| From: | Mal Quinton |
| Date: | Wednesday, September 12, 2001 11:45 PM |
What can I say but my heart goes out to all.
Mal
---
Postscript
We received many emails of thanks for our tribute and are glad we were able to help in some way. Among the many emails we received we also got a few very emotive pictures which we were asked if we could include and are happy to do so. This page is now a permanent part of our site as a memorial to this terrible day in our history.
A new building rises from the ashes in 2014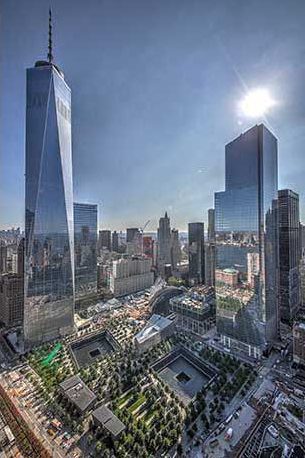 http://onewtc.com/