Grand River Sachem, Nov 19, 2002

Scottish Catholic Observer, Friday, December 6th, 2002
Moultrie Observer, Dec 2002
Special Guest at the Jacksonville Highland Games, Florida. Feb 2003.
SPECIAL GUEST: ALASTAIR MCINTYRE
Owner/Operator of web site, Electricscotland.com

Alastair McIntyre was born in Glasgow in 1951 and spent much of his

childhood in Iran, Kuwait, and Malta. After graduating from the Dollar Academy in Scotland, he trained to become an accountant. Alastair then had a varied career in management, sales, and insurance. Returning to Scotland, Alastair quickly got a District Sales Manager position with Carnation Foods. That is where he got his first introduction to computers.

After losing his job; so he decided to start his own computer business. Today, he operates the Electric Scotland web site, a great place for Scots

the world over to drop in and have a blether. As of the year 2001, Electric Scotland gets over 5500 visitors per day with 94% of the visitors coming from outside the United Kingdom, mostly from the U.S. and Canada; Their public message WebBoard has now been responsible for three marriages and lots of general friendships. Toward the end of 2002, they became the online home of the Scots Independent, Scotlandís oldest political newspaper. They now get over 12,000 visits a day. Electric Scotland now holds around 10,000 web pages on historical matters pertaining to Scotland, Scots and people of Scottish descent and is the largest Scottish history site on the web. It has also become the online home of the Odom Library in Georgia and its Family Tree newspaper which is the largest genealogical publication in the world and the largest Scottish publication outside Scotland. We are proud to have Alastair McIntyre visiting the U.S. and attending the Jacksonville Scottish Highland Games ó the first Games heís ever attended.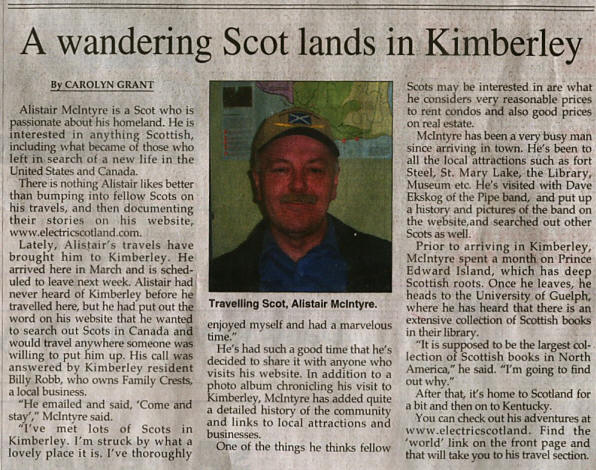 The Standard, August 2004, Elliot Lake, Ontario
The Inverness Oran, Cape Breton, Nova Scotia, 11th August 2004