I, John Henderson, as a former pupil [1951-57]and member of staff [1962-65] at The High School of Stirling, am pleased to present this brief illustrated mini-biography of one of the school's most illustrious pupils and benefactors. v.i.z.

Charles Randolph* [Shipbuilder] (1809-1878) [at birth named Randal]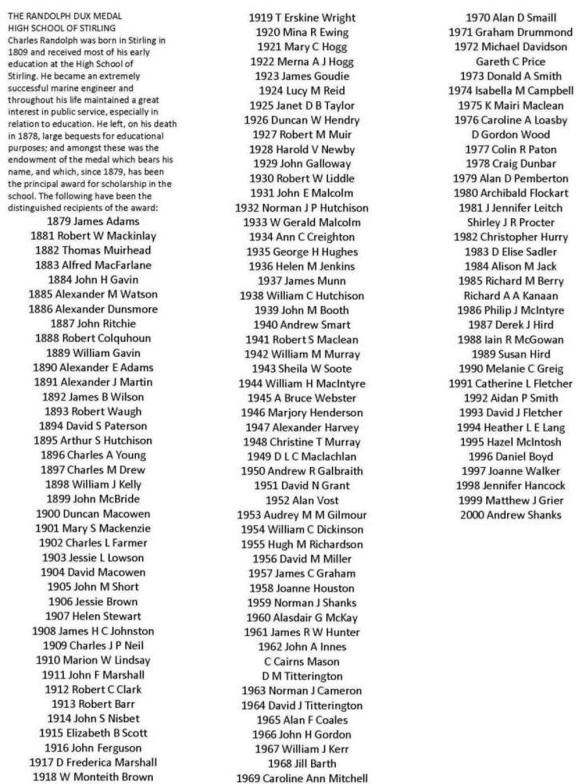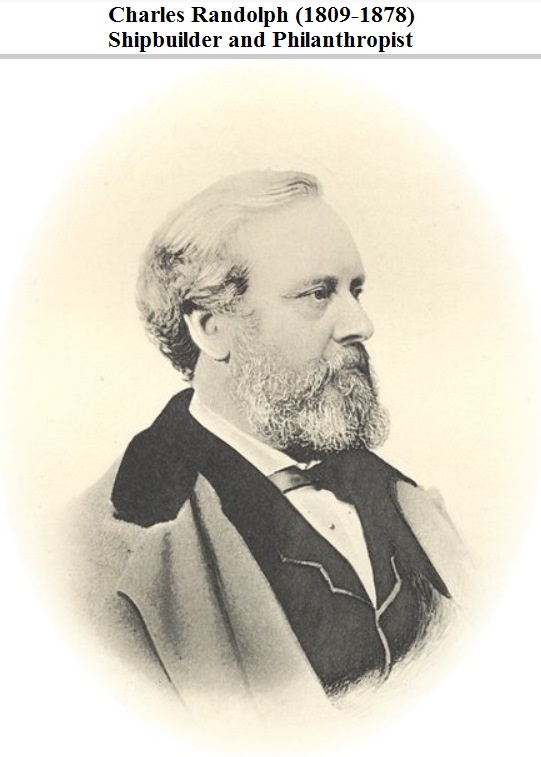 N.B.
The grandfather of Charles Randolph* [1809-1878] had been a surgeon involved in the Rebellion of 1745, and he was for some time immured in Carlisle Castle as a prisoner of war. This persuaded Charles Randal Snr. to adopt the modified name of Randal, but his son, Charles* [1809-1878], in due course reverted to the original patronymic.]

Born in Stirling on 21 June, 1809, Charles Randolph* was the son of printer, bookseller and author Charles Randal, and Mary Steidman/Stedman. Son Charles* had an elder sister Margaret and a younger brother James.
Charles Randolph* was educated in the classics at the High School of Stirling and at Glasgow University but a preference for science led to his further training at Anderson's University. Shortly after leaving college he became apprenticed to the late Robert Napier, then of Camlachie. Mr. Napier soon after this began to build marine engines, and transferred his business to the Vulcan Forge in Washington Street. After completing his apprenticeship with Robert Napier, the marine engineer, Charles* worked in Manchester millwright factories before returning to Glasgow.

In October, 1834, he began by erecting an engine shop in Centre Street, upon the site afterwards occupied by the marine engineering works of Randolph Elder & Co. The shop first built was small - being not more than 60 feet in length by 40 feet in breadth, and the machinery was driven by a little engine of 3 horse-power. The orders obtained were for some time insignificant, but Charles* soon became noted for his ability and energy, and was afterwards called upon to execute a large amount of work in the Glasgow district, in the woollen mills about Selkirk, and in the linen factories of Dundee and elsewhere.

Mr. John Elliot, whom Charles* had known as an outdoor manager in one of the Manchester firms, was assumed as a partner in 1839, and the firm became known thenceforth as Randolph Elliot & Co. Orders were received in larger numbers and of greater importance than before; and a very considerable amount of work was obtained from the North of Ireland. The special business carried on at Centre Street was that which comprised millwright engineering, and included the fitting of appliances for controlling and conveying power in spinning mills, weaving mills, print works, paper mills, gunpowder mills, and almost every kind of work in which steam or water power was used. Mr. Elliot died in 1842, but the business still continued to progress. The works were extended from time to time; and for a considerable period the greater part of the millwright work in Scotland was done in them.

Some time before the 1841 Census, Charles Randolph* married Margaretta Sainte Pierre of Edinburgh.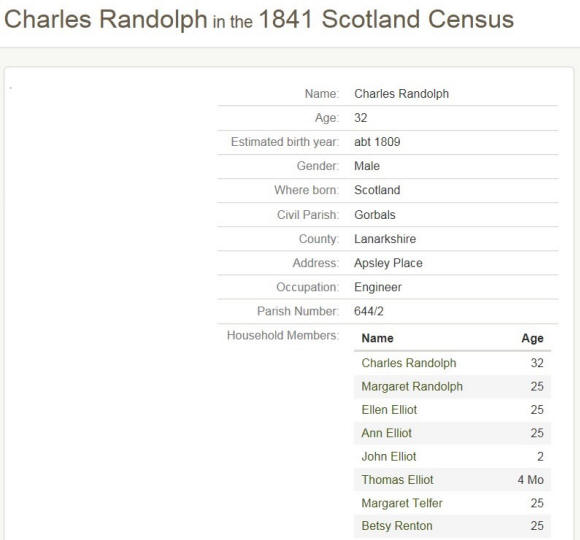 Apart from its extension, no material change took place in the Centre Street business until 1852, when John Elder joined Charles Randolph* as a partner, and the firm became that of Randolph Elder & Co. Soon after John Elder's accession, the construction of marine engines was commenced. The marine engineering business rapidly increased, and was carried on alongside the ordinary millwright work of the firm; but it was destined before long to become so extensive as to entirely supersede the original business. Randolph Elder & Co. added shipbuilding to their other undertakings in 1858; and by the end of the next ten years, they had constructed 111 sets of marine engines, of 20,145 nominal horse-power in the aggregate, and had built no fewer then 106 vessels, of an aggregate tonnage amounting to 81,326 tons, beside three floating docks.
Many patents were taken out by the firm; some in the joint names of Charles Randolph* and John Elder, and some in the name of John Elder alone. To the former class pertain the patents for the chief improvements in the compound engine. It maybe be doing an act of injustice to attribute the exclusive merit of these improvements either to the one patentee or to the other. Each of them was possessed of a keen and devisive intellect, and also of very great powers of application and concentration - the intellect of Charles Randolph*, however, being quite as keen and devisive, and his powers of application and concentration quite as remarkable as those of John Elder. Both had been led to consider the subject at an early period, and they worked at it, not only in common, but also in hearty co-operation. It is believed, therefore, that no account of the great improvements made by the firm in marine engineering will do justice unless it proclaims that the merit falls to be credited neither wholly to the one partner nor wholly to the other, neither in unequal shares, but quite as much to Charles Randolph* as to John Elder.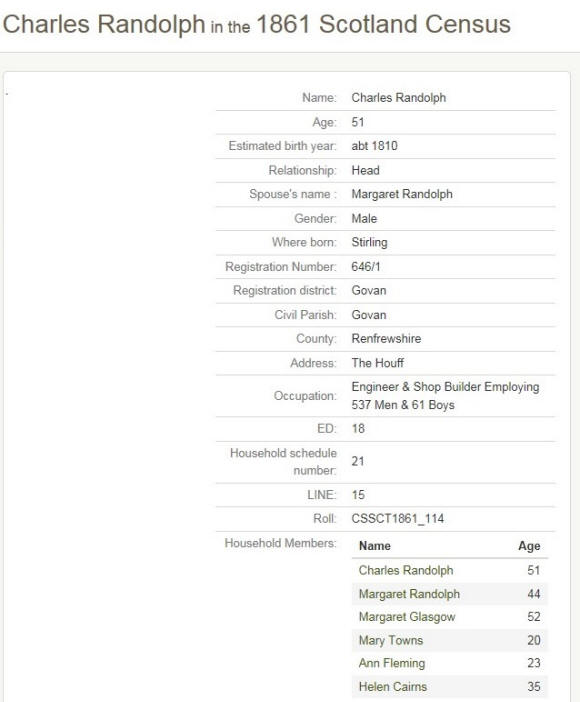 Although Charles Randolph* retired from business in the year 1868, he continued to work actively in many ways in which his professional knowledge and skill were of service. He also entered the Clyde Trust, and sat for several years as one of its members. He wrote pamphlets and letters upon the sewage question, upon the extension of the harbour, and upon the improvement of the navigation. He applied himself also to the question of steam traction on common roads and streets. He became engaged in several commercial undertakings, two of which have been very successful, viz., the British and African Steam Navigation Co., and the British Dynamite Co., now known as Nobel's Explosives Company, Limited. He was chairman of the latter company from its origin till the time of his death. Charles* also undertook various executive positions following retirement, until his death, on 11 November 1878.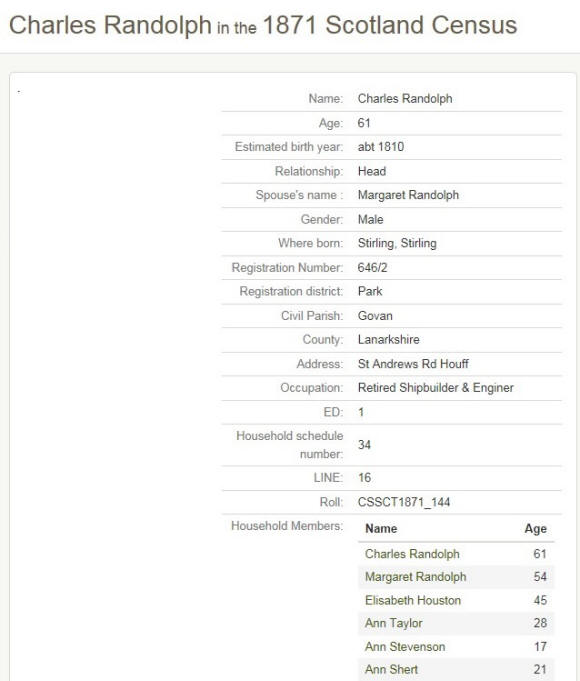 No person whose name is recorded in the annals of the University of Glasgow has acted more liberally towards that ancient seat of learning than Charles Randolph*. By his last will, made about a year before his death, and when his fortune had become considerable, he bequeathed to the University £60,000, besides the residue of his means and estate. Of this more than princely gift part has been devoted to the erection of a hall, which is known as the Randolph Hall. It is proper it should be added, by way of showing how long and deeply-seated was his desire to benefit the great institution of which he was an alumnus, that in a will made by him as far back as 1858, he constituted the University his principal beneficiary, or chief legatee. Gratefully may the University say - "sit ei fama non peritura". This brief memoir cannot end without adding that Charles Randolph* possessed great kindness of heart, and great consideration for the feelings of others; that he was of a genial and liberal disposition; and that he never judged of others otherwise than charitably and generously.

Mr. Randolph died on 11th November, 1878, and was buried in his native town of Stirling.
Charles*and Margaretta lie at rest in the Cemetery of the Holy Rude just below the walls of the Esplanade of Stirling Castle.