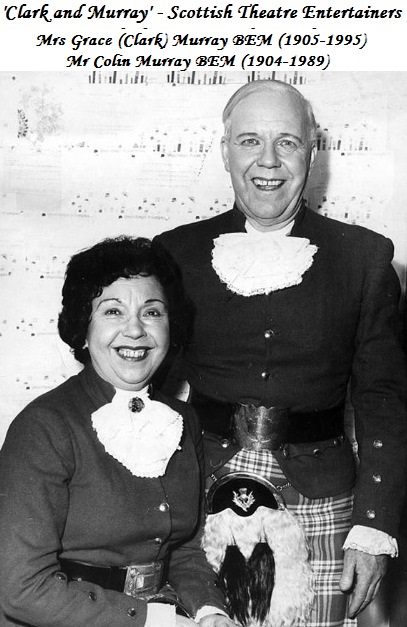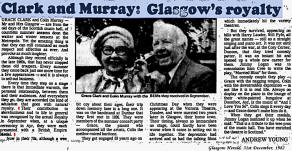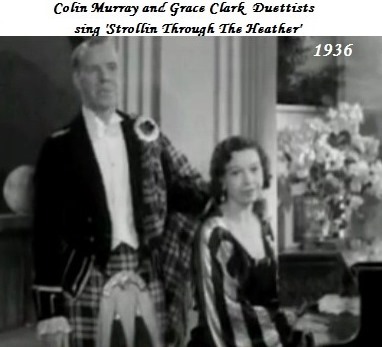 DEATHS OF TWO MUSIC HALL FAVOURITES Colin Murray (1904-1989) and Grace (Clark) Murray (1905-1995)
Marriage -1931 in Glasgow

GLASGOW HERALD Saturday 15 April 1989

Colin Murray, one of the great old troupers of the Scottish and English music halls, who with wife Grace formed the comedy duo of Clark and Murray — often referred to as Mr and Mrs Glasgow — died yesterday at the age of 84 at home in Ayrshire. They were the perfect double act both in public and private life, although there was a bit of role reversal. On stage, Colin always appeared with a hang-dog expression, subjected to the constant nagging of Grace. But Grace always maintained that at home Colin was the boss. It was a love story that started a long time ago when they were both young seaside entertainers when Ma, Pa and the weans used to go doon the watter for their holidays. Colin once told me of their first meeting at a concert party in Dunbar in the mid-twenties: "It was on a bandstand in the park. There were green folding parks deparment chairs. We changed the programme every night and rehearsed every morning. If it rained, we had to report to the Corn Exchange."

In those days Grace was a pianist, an accomplished accompanist and singer, and Colin a singer. When it rained a horse-drawn coal lorry came and they had to load the piano on to it. Then they had to load as many of the chairs as possible and ask the audiences to dry them before sitting down. From the back of the lorry they shouted: ''Corn Exchange tonight!" as though they were selling coal. They were appearing at the Victoria Theatre, Dundee, when they got engaged on Christmas Day, 1929. ''What a year we picked to get married," said Grace during that interview. ''There was the depression and the cinema talkies had just come in, murdering showbusiness." With Colin singing in his mellow baritone and Grace at the piano, they continued as a straight act until after the war when their comedy potential was realised. They appeared on bills with artists like Will Fyfe, Tommy Lorne, Harry* lauder and Ella Shields. On the piano at their home one piece of music was always on display — 'And I Love you So'. ''That's our favourite song," Colin told me. "Every day of my life I sing it. And every time Moira Anderson sees us — it could be in the supermarket — she sings it out, loud and clear, And I Love You So....".

Grace (Clark) Murray, one of Scotland's legends in comedy, has died in a nursing home at Ayr, aged 90. Born in Yoker, she was a concert pianist who emerged as a bill-topping comedienne, partnering her late husband, Colin Murray, in the music hall and variety theatre double act of Clark and Murray at theatres in Scotland, Belfast, and the Isle of Man. Grace met Colin when both were solo acts — she a pianist, he a singer — in a summer season at Dunbar in 1926. Their act switched from music to laughter when Grace realised she could win laughs playing the tough, tyrant wife in cross-talk with a long-suffering husband. The twosome were awarded the British Empire Medal in 1982 and had appeared at several Royal performances in Glasgow. Comedian and actor Jimmy Logan said yesterday: ''Grace and Colin wrote a wonderful page in the history of Scottish theatre. They were the best of 100% family entertainment. "On stage, audiences saw Grace putting Colin in his place as a martyred husband. In real life they lived for each other, and Grace was lost after Colin died." Grace's mother did not believe in people who were not married travelling around in showbusiness together, claiming it "wasn't decent", but she relented to the extent of allowing the young couple to do their act, then travel after the show to their respective homes. She later allowed them to work outside Glasgow — but only if they had a chaperone. Their domestic comedy was so popular with audiences in the 1950s that they were labelled "Mr and Mrs Glasgow". A near classic sketch was their Bus Stop, with Colin being harangued by an over-talkative Grace for his behaviour at a social visit. "Aye, yer mither!" she would exclaim, launching into a general dissection of his character. In 50 years together on stage, Clark and Murray worked alongside many of the greats in music hall, among them Sir Harry Lauder, Will Fyffe, Tommy Lorne, and Ham* Gordon. Grace lived in retirement at Doonfoot, near Ayr. Like so many entertainers, she did not take easily to leaving the bright lights. Like so many others in her profession, she was extremely sensitive about revealing her age. Once, after a certain figure had been published, she wrote a friendly letter to The Herald, pointing out that theatrical people should keep to the old adage: "There are two things a performer should never reveal — ages and wages."