Edited by Frank R. Shaw, FSA Scot, Greater Atlanta, GA, USA
Email: jurascot@earthlink.net
I received an email from friend Gerry Carruthers this week and attached to it was an article on a celebration of Highland Mary that he attended, not as speaker or presiding officer, but as a guest. If you know Gerry, you know this is a bit unusual for him as he is in great demand as a speaker and writer in Scotland, Europe and the United States. You may not know that he even finds time to serve as the current president of the Edinburgh Sir Walter Scott Society, and mixed in there somewhere are all the teaching duties he has at the University of Glasgow and its Centre for Robert Burns Studies. Like many of you, I have often wondered how Gerry does all that he does for Burns and for us – those who study the Bard and meet regularly to celebrate his work. I include myself in the latter group since my forefathers made their way from Scotland's Isle of Jura to the shores of North Carolina in the mid-1750s.

Once again we welcome Gerry to the pages of Robert Burns Lives! and deeply appreciate his finding time to think of our readers while engaged in so many activities. He is one of a kind, and we are always honored to have him with us. This is a special article by a special friend. Enjoy it and live it with him. I did! (FRS: 9.3.15)
Rededication of the Highland Mary Monument at Greenock Cemetery, Sunday 30th August, 2015
Gerard Carruthers, University of Glasgow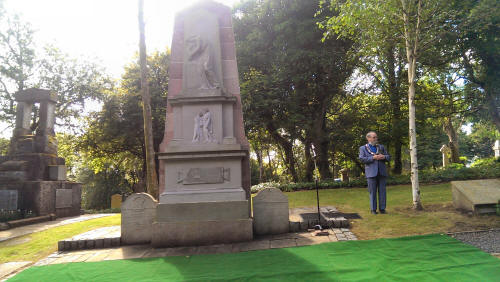 I was privileged to be among the guests at the rededication ceremony of the Highland Mary monument at Greenock Cemetery on 30th August 2015. The occasion was blessed with a lovely sun-filled morning (residents of that fine area of Inverclyde will be the first to agree that sunshine is always a cause for comment in their part of the world!). The weather added to the sense that something special was coming out into the light, and so it was. Since the start of the decade planning, fund-raising and awareness-heightening around the restoration of the monument have been tirelessly pursued by Greenock Burns Club (the 'Mother' Club), most especially by two past presidents, Billy McCready (Manager of the refurbishment project) and Margaret Dickson. Sitting in a vast burial ground, once apparently, the largest in Europe, Highland Mary's resting place - since being reinterred there in 1920 - had by the 1980s become pretty dilapidated. The current photo on Wikipedia gives a sense of the 'before', the images accompanying this article the astonishing 'after', even with a camera-man, whose abilities are, to say the least, rudimentary. The Reverend Douglas Hamilton, yet another Greenockian past president, led the gathering in prayer and remembrance of Mary Campbell, pointing out that much had been claimed about her life – by academics and others, and that much of it remains still a mystery.

Wreaths were laid by the Mother Club, by the Lord Lieutenant of Renfrewshire, Guy Clark, by the Robert Burns World Federation, Inverclyde Council, the Provincial Grand Lodge of Freemasons (Renfrewshire West) and on behalf of the official 'Highland Mary Refurbishment Project'. These bodies and a number of private individuals are to be commended for their intrepid and passionate pursuit of a project that revivifies a piece both of 'local' and Burnsian history. Inverclyde Council have been particularly notable in recent years in investing time, energy and money in maintaining their cultural heritage. For instance, John Galt, Scotland's great novelist buried in a kirkyard less than a mile away from Mary, has had a handsome plaque erected to mark the walls in which he is interred; as well as specially commissioned sculpture at Greenock esplanade replacing a brass memorial that was stolen a few years ago, presumably to be melted down for its scrap value. Such theft is desecration of the community, of its history and identity; and Inverclyde Council has realised that 'man does not live on bread alone' but does so vitally on the culture it produces and remembers. The refreshed Highland Mary monument joins those Galt memorials in Greenock that is simply more lustrous because of them. A project remains, however, as the memorial to that great engineer James Watt, sitting exactly next to that of Mary Campbell, is now in urgent need of a make-over - a fact all the more highlighted by his neighbour's renewal.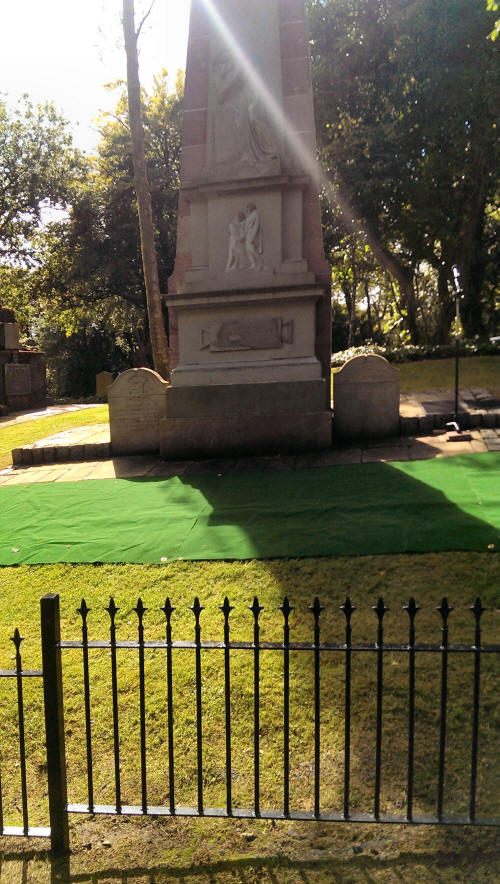 After the recital of a poem written especially for the day, by Jack Glenny (yes, you've guessed it – another Greenock pp!), and a lovely bagpipe lament by Rachael McDaid, the party repaired to the Tontine Hotel for an excellent high tea and a number of speeches and fraternal greetings. One highlight among so many in the afternoon was some footage of the 1920 interment of Mary, shown to audible gasps of amazement among the gathering.

Leaving Greenock in the late afternoon, it felt good to have been simply an observer of so much good work by so many good people. As I drove along the Clyde I felt the urge to recite, according to the custom of my own faith, the litany of prayers for the dead, for Mary. Hers was a brief, beautiful, fragile life, as all our lives are, but Mary's was touched more than most by history. I think of that brief life and that wonderfully restored monument and I rejoice.