Edited by Frank R. Shaw, FSA Scot, Greater Atlanta, GA, USA
Email: jurascot@earthlink.net
This is what I would call a scoop! I asked and she responded - affirmatively - if she would write an article on her recent delivery of the Immortal Memory at an all-male Burns club, one that was actually founded by Robert Burns, his brother Gilbert and a few of their acquaintances. Her "yes" reply was immortal to me. You see, I have a lot of pull in her home beginning with son Gregor who has had his own Immortal Memory published on Robert Burns Lives! for several years now and is the youngest person to ever present an Immortal Memory on RBL! Her daughter Dora and husband David are my friends as well, wonderful people. More importantly, or at least just as important, their loving dog Winnie is on my side too! Who could I be talking about other than the first woman to ever address an Immortal Memory at the famous, or infamous, Tarbolton Bachelor's Club. There has been much publicity in the press on her the last couple of weeks and, hopefully, we will be able to entice her to speak to my own Burns Club in Atlanta one day. This talented speaker is also a singer and musician with enough academic degrees to make a lot of would-be Burnsian scholars blush. Allow me to introduce my good friend, Dr. Kirsteen McCue of Glasgow University and its Centre for Robert Burns Studies, and Sunday lunch chef extraordinaire!

Kirsteen has given many interviews on radio and television regarding her Tarbolton experience, but this is the first article by her personally. That is where the scoop comes in and I am extremely proud that her views are expressed on Robert Burns LivesI I look forward to smoking a Boston butt for six or seven on the grill for this delightful young family when they visit us in the States, hopefully sooner rather than later. My deepest thanks to her for sharing her thoughts with us.

Next week I look forward to bringing you various newspaper accounts of Kirsteen's time at Tarbolton. (FRS: 2.10.15)
Burns and the Bachelors
By Kirsteen McCue, University of Glasgow

Kirsteen McCue at the Bachelors Club
There's been a bit of a 'stooshie' here in the past couple of weeks. Not only has it been Burns season, with its late nights, revelry and celebrations both traditional and avant garde, but my invitation to deliver the Immortal Memory at the Tarbolton Bachelor's Club has generated serious comment. There's been coverage on BBC Scotland (both radio and TV - http://www.bbc.co.uk/news/uk-scotland-glasgow-west-30948428), on Scottish Television's news programme (http://news.stv.tv/scotland/307727-dr-kirsteen-mccue-makes-history-at-bachelors-club-burns-supper/) and in The Times, as well as a variety of Ayrshire papers and brief reports in The Herald and The Scotsman. And why? For no other reason, but that I am of the fairer sex.
The Tarbolton Bachelor's Club, formed by Burns and his brother Gilbert in 1780, was exclusively, as its title suggests, for Bachelors – indeed it was for young, working men in Tarbolton and its environs. Nigel Leask's recently published first volume of the new Oxford Works of Robert Burns, entitled Commonplace Books, Tour Journals and Miscellaneous Prose (2014), includes the formal documentation from the Club, replicating the information as it appeared in James Currie's first edition of Burns's works in 1800, because the original papers had been destroyed. One of the most impressive things about the young Burns brothers is that they were clearly well engaged with the world around them and, although it was not overly common for small rural towns like Tarbolton to have clubs of this kind, it was nonetheless the case that there was a real vogue for clubs and societies across the British Isles and beyond. Young men were eager to improve themselves and often joined Masonic lodges and clubs (and there were two in Tarbolton at this time) to expand their social networks while broadening their knowledge too. As Nigel has commented, Tarbolton's population was in decline at this point, but young unmarried men nonetheless represented a high percentage of this population.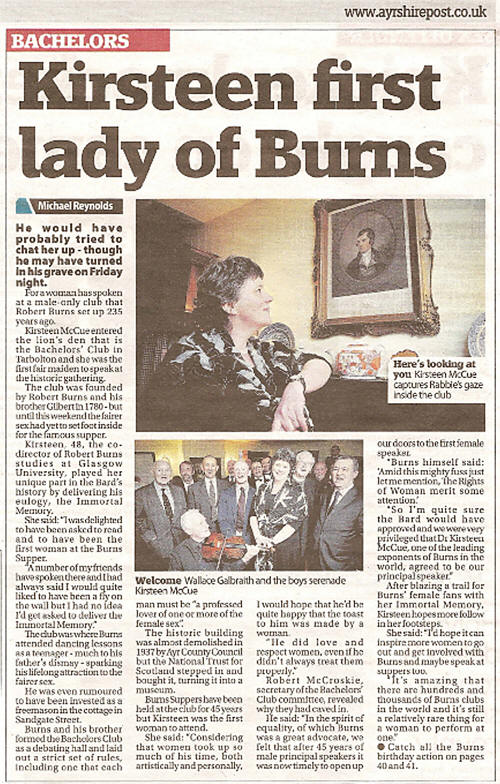 Article from the Ayrshire Post Newspaper
Women were not normally allowed access to such clubs and societies with the exception of special evenings. Again in this context the Bachelor's Club was no different, for women were allowed access on the occasion of the Club's annual dance. There was little space for a big gathering in any case. The Club meetings were held in a single upstairs room above a domestic dwelling – in a building erected in the 17th century. In Burns's day the ground-level house was occupied by John Richard and his family – various accounts suggest it was an alehouse. Club membership was limited to a maximum of 16 men (there are only 6 today!) and by the time each of them had arrived with a partner and dancing was underway there would be little space for anyone else. But women, as I reminded the men gathered at our dinner on 23rd January 2015, played a significant role in the background. The 'History of the Rise, Proceedings and Regulations of the Bachelor's Club' states quite clearly, in its 10th Regulation' that:

Every man proper for a member of this Society, must have a frank, honest, open heart; above any thing dirty or mean; and must be a professed lover of one or more of the female sex.

I did dare to pose the question 'is this still the case?' at the dinner – but no one responded! The Rules continued, by stating that

No haughty, self-conceited person, who looks upon himself as superior to the rest of the Club, and especially no mean-spirited, worldly mortal, whose only will is to heap up money, shall upon any pretence whatever be admitted. In short, the proper person for this Society is, a cheerful, honest-hearted lad; who, if he has a friend that it true, and a mistress that is kind, and as much wealth as genteely to make both ends meet – is just as happy as the world can make him.

In my Immortal Memory I noted that, while Burns perhaps didn't completely fulfil this remit by the time of his untimely death, at the age of 21 when he formed the Club he doubtless was an 'honest-hearted lad'. What was certainly true was that he had a formidable knowledge of local women as his song 'The Tarbolton Lassies' testifies. And, moreover, his first question for discussion and debate clearly illustrated his ability to tick this particular membership box:

Suppose a young man, bred a farmer, but without any fortune, has it in his power to marry either of two women, the one a girl of large fortune, but neither handsome in person, nor agreeable in conversation, but who can manage the household affairs of a farm well enough; the other of them a girl every way agreeable in person, conversation and behaviour, but without any fortune: which of them shall he choose?

Sadly, as the account we do have suggests it was a vital and vibrant social and intellectual development in the area, the Club only lasted for a few years beyond the departure of the Burns brothers when their father died in 1784. They took the tenancy on Mossgiel farm and became connected to the town of Mauchline at this point. Here they quickly became founding members of the 'Mauchline Conversation Club', as it was termed, which was not quite the same as the Bachelor's Club – they started a subscription book club over and above the debating. While John Richard's house remained intact, it would be well into the 20th century before a new 'Bachelor's Club' met again in that room. In the interim several families occupied the house, but by the 1930s it was facing demolition when the National Trust for Scotland stepped in. It was eventually opened to the public in 1971 and now you can go and visit it and learn from the wonderful Davie Rodger, who looks after it and is a font of knowledge about Burns and his connections there. His amazing commitment to the place was rightly commended by several of our toastmasters at the dinner this January.

But to our tale...

The story goes that I received an initial invitation from Dr David Hopes, Director of the Robert Burns Birthplace Museum in Alloway and on behalf of the National Trust for Scotland in September last year sounding me out as to whether I would attend as the first woman to be invited to the Club. I was really delighted to receive this invitation. I knew some male friends and colleagues who had been invited to attend and speak in the past and was always keen to know what it had felt like to be there. I was happy to say yes, partly because I knew it was 'a first', but also because I have a real soft spot for this particular venue. Along with Ellisland, Burns's last working farm, my trip to the Bachelor's Club several years ago sticks in my mind because it has hardly changed since Burns himself was there. Just a single room, with a thatched roof and an outside stair as entrance, you do feel as though you step back in time when you enter it. Initially invited to attend and to reply to one of the evening's many toasts (very 18th century!) the invitation, by mid December, had changed and I was asked if I would be willing to propose the main toast of the evening, to the Immortal Memory of Burns. As most folks know this is the main speech at a Burns Supper and nearly always the focus on Burns himself. I really felt a sense of expectation, but I did also want to accept.

So on a cold, rainy and windy January evening I made my way to Ayrshire as night came. The day had been outrageous. The National Trust for Scotland had prepared a brief press release about the occasion, but no one quite believed how much attention this would generate. I woke to my husband, leaving for work at 7.15, telling me I'd just been 'on the radio' and by my breakfast time my mother had heard news of the event on the morning television news. The phone didn't stop and I gave interviews to The Times, The Ayrshire Post and received STV to my home to interview me for the evening news. They were on their way to Tarbolton to speak to David Hopes and take some footage of the Club itself. The locals in Tarbolton couldn't quite believe it, as we were later to find out. And across 24 hours I had messages from friends and colleagues literally across the world who'd picked up the information on Scottish news websites.
In the company of my drouthy cronies – David Hopes and Chris Waddell from the Burns Birthplace Museum, and their guest Graham Boxer, Director of the Imperial War Museum, North – we taxied from Ayr to Tarbolton where we were met by a crowded room of 'Bachelors' and the catering crew who were working tidily in one corner of the room (the food was delicious). Davie Rodger had told me before about how the room had been 'shored up' from below. But last year they had new joists put in and everything in the Richard house had a lick of paint! Nonetheless the tables were laid and the space was tight, made more so by the appearance of two local photographers who then had us work our way around the space for a variety of different shots. Folks were mightily relieved when that part was over and we were asked to sit for dinner.

In such a tight space there was a real intimacy about the evening. Conversation was always on the go. I was happily sitting between Graham Boxer and the Reverend Ian Macdonald, now, I think, the most senior member of the Club, who chaired the evening with dry wit and great timing. It transpired that he and I had a love of Ardnamurchan in common, he having been born in Kilchoan about four miles from the place my own family visits every summer. But the tables are so closely connected that there was also conversation with other guests. The evening does not conform to the usual Burns Supper schedule. We did have 'The Selkirk Grace' and the Haggis was piped in and 'addressed'. But there was no toast to the lassies, of course, and no reply! There were six other toasts, including the Immortal Memory, and replies to each of these which really harked back to the 18th century vogue for toasting and for using toasts to educate those who were present. So we 'learnt' about the work of the National Trust for Scotland, about the Birthplace Museum and more about the workings of the Bachelor's Club meetings nowadays too – this was the funniest moment of the evening with comic banter between David Hopes and the Club secretary Bobby McCroskie. And we did have some poems – with an especially breathless and exhilarating 'Tam o'Shanter' and a couple of songs by the newest Club member, Bruce Kennedy. Moreover we heard the ornately decorated William Gregg fiddle played by local Ayrshire fiddler Wallace Galbraith
(http://www.burnsmuseum.org.uk/collections/object_detail/97.90.0).
This is the fiddle to which Robert and Gilbert learnt to dance while they attended the Club meetings and which, presumably, played for the dances which the local lassies were asked to attend (if they were so lucky!). What came across for me was a real passion for and knowledge about Burns. It shone through all contributions. So often Burns suppers can be huge and rather impersonal events, but this was at the opposite end of the spectrum.

I had been slightly anxious that not all attendees would have been supportive of the Club's invitation to me to speak. But, if there were reservations, they certainly didn't show them. I was warmly welcomed and respectfully treated and I was particularly touched to be introduced by the Reverend Macdonald not as 'the first woman to attend and speak' but as someone who was doing interesting work on Robert Burns. My Immortal Memory explored the question of whether or not Burns would have been in agreement with my invitation to deliver his toast and, by using a number of the love songs to make my point, I explored Burns's relationships with women and what this told us. I concluded that, even though he didn't always do the right thing by his women, he was well aware of the need for women's rights to be heard and respected. Burns's impressive ability to 'voice' a wide range of women and their views in his poems and notably his songs clearly demonstrates this. As such I concluded that he really wouldn't have minded that his own toast was proposed by one of that sex who, after all, occupied so much of his creative time as well as his physical life.

So I hope my decision to accept the Bachelors' very kind and bold invitation has been a positive move. The Immortal Memory is still rarely proposed by a woman, but there are plenty of women with real interest in and knowledge of Burns in the 21st century. I do feel privileged to be the first to have been asked to this very special place and proud to have made a little bit of history this January. When we walked to the local 'Black Bull' for a final dram that evening we were met by a young man, not that dissimilar to Burns – a local stonemason in his twenties – not that much older than Robert and Gilbert were when they formed the club. He got chatting to Chris Waddell who explained that he'd been in Tarbolton that evening for the Bachelor's Club supper. 'Where's the wumman and can I meet her?' was the question. I was duly introduced and regaled by his own performances of Burns. The folks in the pub that night had all heard mention of Tarbolton that day on the news and were well impressed by it. Their warm welcome and their love of Burns will mean that I won't forget this Burns Supper for many years to come.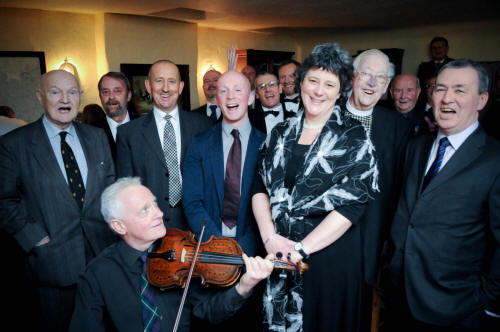 Kirsteen McCue with Members of the Bachelors Club

If you get the chance go and visit the Bachelor's Club
http://www.nts.org.uk/Property/Bachelors-Club/