Edited by Frank R. Shaw, FSA Scot, Dawsonville, GA, USA
Email: jurascot@earthlink.net
Here is an interesting connection, slight as it may be, between Robert Burns and John Galt, "the other great Ayrshire writer." Were they the best of friends? No and neither did they frequent the pubs together, but they had one thing in common – they were distant kin being, I believe, second cousins. There was twenty years separating them with Galt being the youngest. Because of this age difference, there is little between the two except their bloodline and their desire to write. One wrote books, the other a book. One dealt in prose and the other primarily in poetry and songs. Yes, one went to debtor's prison while the other thought he was going there too as he lay on his death bed. One was the son of a sea captain who told stories around the fireplace that caused his son to go see the world for himself as a traveler to Canada and Europe. As Chris Rollie points out in his fine book Robert Burns in England, Burns went to England but ventured into the country for only a few miles. One founded cities and made good money while the other could only dream of such money -- and none of us will ever forget him on his death bed begging for a few pounds. One is enshrined in the hearts of men and women all over the world and the other, by contrast, is hardly known by our world's population. I could go on with other comparisons, but John McGee's wonderful article on John Galt awaits. Enjoy.
Our writer, Ian McGhee, or John if you prefer, was born and brought up in Ayrshire, Scotland and has recently returned there to live. After a successful career in the public service dealing mainly with business and industry, he enrolled at Glasgow University to study Scottish Literature and was awarded a first class Honours degree in 2013. He is currently completing a Masters in John Galt's North American corpus.
I'm grateful for John's assistance with this article and for the several pictures he has shared, and I also appreciate Gerry Carruthers putting the two of us together for this piece. A new John Galt Society was just formed in Glasgow this month with dues of only £10 annually. I jumped at the chance to join as a means of learning more about John Galt from these scholarly Scottish men, and I hope you will join me in membership. There is so much more to Scotland than just Robert Burns. So please contact me and I will put you in touch with the person in charge. (FRS: 12.18.14)
John Galt: The Other Great Ayrshire Writer
by Ian McGee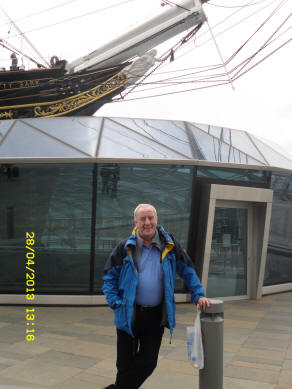 Ian McGhee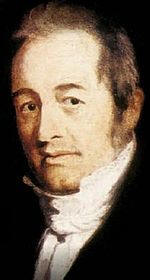 John Galt
Robert Burns was not the only great literary figure to emerge from Ayrshire. John Galt was only twenty years younger than Burns but can fairly be said to have been as innovative in prose as his more famous countryman was in poetry. Galt anatomised the small communities of the West of Scotland at a time of unprecedented social, religious and economic change, pioneered the political novel, took the concept of first person narration to new heights of irony and leavened it all with a richly comic yeast. And all the while he considered that his writing was a poor second to his pursuit of fame and wealth through business.
Of course it may not just be the Ayrshire air which produces writers. The genes may have a greater influence. David Knight, in Guelph Ontario, the city founded by Galt, published a new edition of Galt's story The Omen in 2014 and in his foreword says that Galt's father John was a first cousin to Burns and also a first cousin to John Allan, the foster father of Edgar Allan Poe. There is evidence, too, that Galt was a founder member of Greenock Burns Club, the oldest in the world.
John Galt was born in Irvine in 1779. His family moved to Greenock in 1789 and it was there that he completed his education and first started work. In 1804 he went to London to seek his fortune, a prize which hovered tantalisingly out of reach for all his life. Bankrolled by his father he bought into a partnership which went bankrupt in 1809. Discharged by his creditors he went travelling for more than 2 years around the Mediterranean, where he fell in with Lord Byron, and through Europe.
On his return to London he tried his hand at a number of ventures, the most successful of which was as a Parliamentary Agent; what we would now call a lobbyist. He was responsible in 1819 for the successful passage of the necessary legislation to allow completion of the Union Canal linking Edinburgh and Glasgow and this brought him to the attention of some Canadian gentlemen who were seeking compensation from the British Government for losses they had suffered defending Canada from the US invasion during the war of 1812 – 14. Galt undertook to represent them on a no-win, no-fee basis.
He gradually discovered that while the Government was ready to offer the Canadians lots of sympathy it would not hand over any cash. In his researches on the matter he did, however discover that the Government held vast amounts of land in Upper Canada (present day Ontario) and that it was not being usefully or profitably developed. He therefore conceived the idea of forming a company which would buy the land wholesale, put in some basic infrastructure, divide it into manageable lots and sell it retail to emigrants and settlers.
Galt's ideas on land and community development had been refined when he made a reconnaissance trip to Canada in 1825 and reached there via the Genessee country of New York State where he had made a detailed study of the operations of the Holland Land Company and the similar firm of Goran & Phelps, both of whom impressed him greatly.
The Canada Company was duly formed, obtained its charter from the Government and purchased over 2 million acres in Upper Canada. Galt was appointed as its first commissioner and arrived in York (present day Toronto) in December 1826. Until he returned to London in April 1829 Galt worked tirelessly, founding the cities of Guelph and Goderich, receiving and providing for settlers, and selling land, sometimes accepting labour in exchange and sometimes payment in instalments. The methods he pioneered were adopted by the Company after he left and kept it in profitable business until it was wound up in 1954.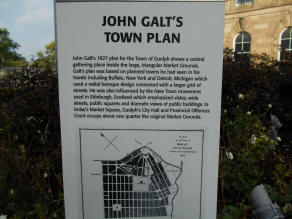 John Galt's Town Plan of Guelph
The Canadian sojourn had a much less happy outcome for Galt personally. He had made three serious errors. The first was that he failed to ensure that the Directors of the Company accepted that they needed a medium term strategy. They had invested in the expectation of short term profits while Galt always knew that it would take time for profits to be realised. Unfortunately, he tended to believe that if something was obvious to him it would be equally obvious to every other intelligent person. The Directors, however, became very nervous when they saw the amounts of cash flowing out at a much greater rate than the money coming in.
The second error was to make an enemy of the Provincial Government in Upper Canada, headed at that time by General Sir Peregrine Maitland, a man 'crammed with the pet prejudices of religion, flag and caste' according to the Canadian historian Arthur Lower. As a staunch Anglican Maitland viewed the Presbyterian Galt with suspicion and, wrongly, suspected him of harbouring radical and democratic tendencies. His despatches to the London Government therefore presented Galt's activities in an unflattering light and added to the uneasiness which the Directors were feeling. Galt was not entirely blameless since his relations with Maitland were characterised at best as lacking tact and at worst as being downright arrogant.
The third mistake, and the straw which broke the camel's back, was that Galt was a poor bookkeeper. The Company's accounts in Canada were a mess as the Company discovered when they sent a representative to Canada to inspect them. There was no question of malfeasance or embezzlement: Galt did not divert any funds to his own pocket. In fact, shortly after his return to London he was imprisoned for debt. He could, and did, argue with considerable justification that his workload was too great for him to keep on top of all the details. Nevertheless it was sufficient excuse for the Company to recall him to London in April 1829 and to dismiss him.
Galt's business career was now effectively over and within the next three years he suffered a series of strokes. They caused him to retire to Greenock where he lived quietly until his death in 1839. Throughout his life, no matter what else he was doing, Galt wrote. There was no literary genre to which he did not turn his pen. Journalism on politics, economics and society, histories, biographies, travel books, short stories, novels, children's text books, poems and plays were all published under a variety of pseudonyms and with varying degrees of success. Inevitably, with such a prodigious output the quality is variable but at his best he has few equals for illustrating universal truths through the examination of village and small town societies.
His first great literary success came with the publication in monthly parts from March 1820 in Blackwood's Magazine of The Ayrshire Legatees, an epistolary novel concerning the Pringle family's time in London in pursuit of a legacy and the reactions to their letters back in the home village just outside Irvine. It was quickly published in book form in 1821 and in the same year was followed by The Annals of the Parish, the purportedly autobiographical account of the sixty years ministry (from 1760 to 1820) of the Reverend Micah Balwhidder in the parish of Dalmailing (modelled on the village of Dreghorn, again close to Irvine). In rapid succession there came Sir Andrew Wylie of that Ilk (1822), The Provost (1822) and The Entail (1822). The Provost is set in the Royal Burgh of Irvine and covers the same period as The Annals. It is another of Galt's faux-autobiographies and is a wickedly funny and masterly study of small-town politics through the medium of ironic self-revelation. What it tells us about the political animal is as true today as it was then.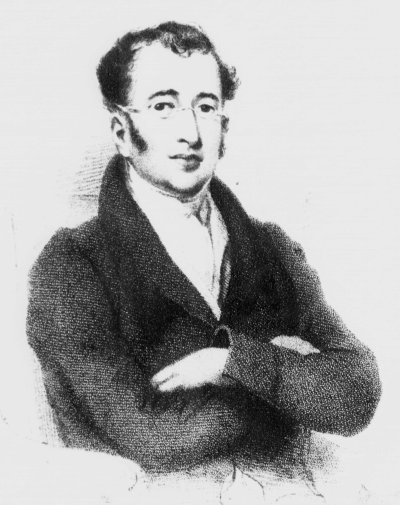 Pencil drawing of John Galt
All of these novels, which Galt preferred to call 'theoretical histories', provide valuable information for social historians about the effects of economic, religious and social change in rural and small town Scotland at the beginning of the nineteenth century. Professor Christopher Whatley has said that it is only now that historians are catching up with Galt and uncovering incontrovertible evidence that what he was saying about social and economic conditions and the reactions of people to them is undoubtedly true and not invented for literary or dramatic purposes.
Galt then published a series of historical novels of which Ringhan Gilhaize (1823) is the most noteworthy. It may be considered as a defence of the Covenanters, or rigid Presbyterians, whom Galt felt had been afforded too little respect by Sir Walter Scott in Old Mortality. He returned to change in the social order, and comedy, with The Last of the Lairds (1826) which, because he was preparing to go to Canada, he allowed to be published in a heavily bowdlerised form. It was not until 1976 that Ian Gordon produced an edition of that novel which contained what Galt actually wrote rather than the genteel ending which Blackwood forced on it.
After Canada Galt needed to write since it was his only source of income. Among other things he published Lawrie Todd (1830), based on his experiences in New York State but drawing on, for the early part, the real autobiography of Grant Thorburn, a Scotsman who had emigrated to New York City and to whom Galt says he paid 'an author's, not a publisher's price' for the manuscript. This was followed by Bogle Corbet (1831) which ranges from Glasgow to London to the West Indies and, for the final third of the book, Ontario. Both of these novels have their longeurs for they were padded out to meet the publisher's demand for a full three volumes but they contain fascinating accounts of Galt's views on emigration and community building.
The best of his later novels is The Member (1832), another faux-autobiography concerning Parliamentary politics before the Great Reform Act of that year widened the franchise. It is a pioneering novel of politics, written from Galt's extensive experience of how Parliament actually worked as opposed to how it presented itself, and foreshadowed what Trollope did in the Palliser novels in the second half of the nineteenth century.
A man who was such a master of irony in his novels was the victim of it in his life. He said that 'I have ever held literature to be a secondary pursuit' and that 'I have sometimes felt a little shame-faced in thinking myself so much an author…A mere literary man – an author by profession – stands but low in my opinion'. He had failed as a businessman and was unappreciated at the time as a community builder but as a writer of social realism, psychological insight and high (and low) comedy he has few equals.
END
See also our page for him at
http://www.electricscotland.com/history/other/johngalt.htm